The Water Cycle in the Anthropocene
BYU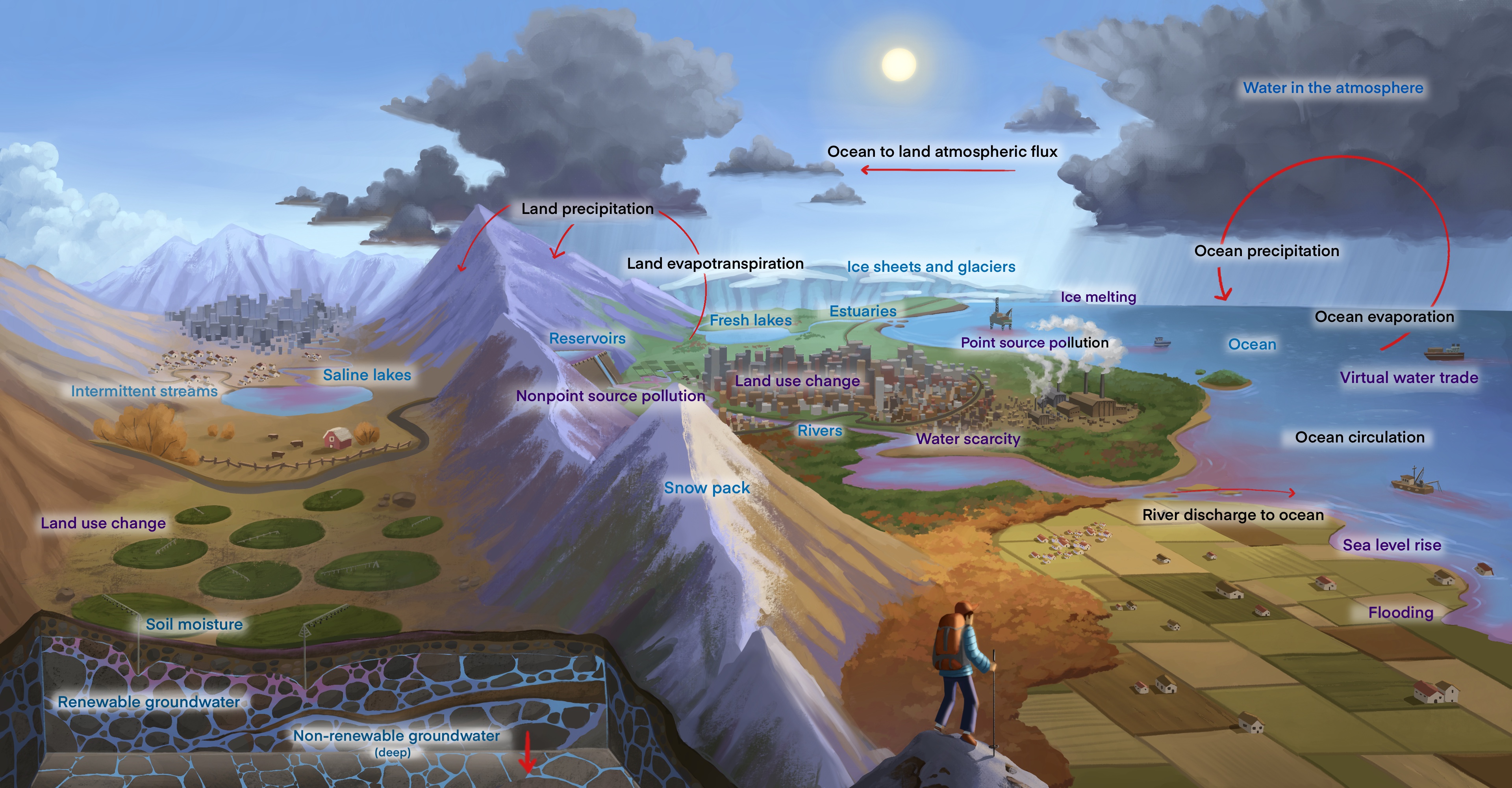 Problem Statement
Include your problem statement description here. The description should contain 150-400 words. The water cycle is one of the first great cycles with which many people engage during their basic education. Though water cycle diagrams may not be intended as comprehensive and quantitative representations of the entirety of ecohydrological science, they effectively play that role for many educators, policymakers, and researchers, which increasesthesocietal stakes of systematic inaccuracies. Diagrams of the global water cycle explicitly and implicitly teach core scientific principles including conservation of mass, the reality that human activity can cause global-scale changes, and the concept that distant processes can have acute, local effects. Flaws in this pedagogic tool could therefore undermine efforts to promote understanding of water and general scientific thinking. Because humans now dominate critical components of the hydrosphere, and nearly 4 billion people face severe water scarcity, improving our understanding of the global water cycle has graduated from an academic exercise to a planetary priority.
Module Overview
Describe the overview of the module in a few sentences. How does your module plan to address the problem statement? This module aims to improve understanding of the water cycle in the anthropocene. This is accomplished by introducing the global water crisis and providing case studies of the extreme water regimes we deal with on a global scale - flooding and drought. The module then compares the natural water with the human-altered water cycle and encourages critical thinking regarding the role humans play in the water cycle. The module wraps up by reviewing nature-based solutions to the issues of the water crisis.
Topics Covered
water cycle, hydrologic cycle, flooding, drought, nature-based solutions
Prerequisites
No prerequisites
Learning Objectives
Add learning objective language like the following, At the end of this module, students will be able to: define key terminology relating to hydrological processes (fluxes) and stores; critique water cycle diagrams; create water cycle diagrams; annotate how humans modify hydrological processes; calculate estimates of personal and global human impact on the water cycle; and devise an effective nature-based solution that reduces negative impacts on the natural system.
"This will be accomplished through activities within each section. Results from each activity will be recorded in specified results templates. The results templates for each activity can be found at the beginning of each activity. The results templates are organized such that results from one activity can easily be used in successive activities."
Course Authors

Joshua J. LeMonte, Ph.D.
Brigham Young University Department of Geological Sciences

lemonte@byu.edu

Ian Pattison, Ph.D.
Heriot Watt University School of Energy, Geoscience, Infrastructure and Society

I.Pattison@hw.ac.uk
Target Audience
Introductory hydrology, geology, earth and environmental science courses, including general education courses. This module may also be used in more advanced courses as a review or thought exercise.
Tools Needed
Computer with internet access
Course Sharing and Adaptation
This course is available for export by clicking the "Export Link" at the top right of this page. If you are an Instructor seeking the answer keys, please contact the course creators using your official University email account.
Expected Effort
A student could expect to complete this module with approximately 4 work hours.